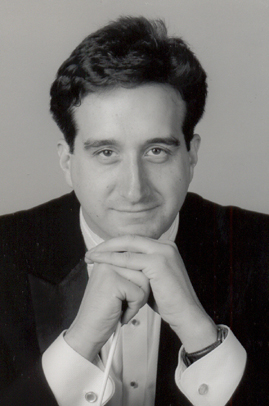 Joseph Ohrt
- Central Bucks High School-West

Joseph Ohrt serves as Director of Choral Activities and Chairman of the Music Department at Central Bucks High School-West as well as Artistic Director of the American Youth and Children's Choirs. He is adjunct professor at Westminster Choir College in Princeton, New Jersey, one of the world's foremost centers for choral study. Dr. Ohrt's unique teaching style has not only challenged thousands of students over the years but has also inspired an unprecedented number of collaborations with North American composers. His adventuresome programming, involving new compositions and movement, is serving to create a new paradigm in standards for high school choral performance.

Dr. Ohrt holds bachelor's and master's degrees from Westminster Choir College, the School of Music of Rider University and a Doctor of Musical Arts degree from the University of South Carolina. He has also earned a teaching certificate from the Kodaly Musical Training Institute at the University of Hartford and an Artist/Teacher Diploma from the Choral Music Experience Institute at Northern Illinois University. He has been under the tutelage of master teachers Joseph Flummerfelt, Frauke Haasemann, Margaret Hillis, Dennis Keene, Doreen Rao and Gregg Smith. He has served as an adjunct faculty member at University of South Carolina. There he taught on the choral and music education faculties as well as at the Honors College. He is the founding conductor of the university's Honors College Choir and African Chorus.

Recognized widely for their impeccable performances, his choirs have been honored by musical organizations with invitations to perform at the American Choral Directors Association's State, Eastern Division and National Conventions, the American Guild of Organists National Convention, and the American School Business Officials International Convention. Ohrt has prepared children's choruses for performances with Curtis Institute, the Mostly Mozart Festival at Lincoln Center, the Opera Company of Philadelphia, and for an internationally released recording with the Voices of Ascension and Dennis Keene. The choirs have performed for many world leaders including: Presidents DeKlerk and Mandela of South Africa, President Havel of the Czech Republic, Prime Minister Peres of Israel and three times for President Clinton. Millions have seen the choirs in televised performances singing major production numbers in Boscov's Thanksgiving Day Parade, the Philadelphia Fourth of July Parade and the Electric River Spectacular.

West Choir performances have been presented coast to coast in the United States as well as internationally in Canada and Europe. The choirs have performed in major venues such as the Basilica of the National Shrine of the Immaculate Conception, the John F. Kennedy Center for the Performing Arts, the National Cathedral, the Pentagon and the White House in Washington, D.C. They have sung in Boston's Cathedral of the Holy Cross, Jordan Hall, John F. Kennedy Presidential Library, Mother Church Christ, Scientist, Tremont Temple and Trinity Church. The choirs' New York performances have been at CAMI Hall, Carnegie Hall, the Cathedral of St. John the Divine, The Riverside Church, St. Patrick's Cathedral, Trinity Church-Wall Street, and the United Nations. Philadelphia performances have been at the Academy of Music, Citizens Bank Park, Mann Music Center, and Veteran's Stadium. West choirs have performed at Notre Dame Cathedral and the Louvre Museum in Paris France, as well as singing the music of Maurice Duruflé at his home church, St. Etiènne du Mont. The choir has sung at Toronto's Skydome and has traveled to California performing in major venues in Pasadena, San Diego and at the new Cathedral of Our Lady of the Angels in Los Angeles. The choir recently toured to Chicago where they performed at the Cathedral of St. James, Fourth Presbyterian Church, Holy Name Cathedral, Orchestral Hall, and St. James Chapel at Quigley Seminary. The 2006 Niagara/Toronto tour will feature performances at St. James Anglican Cathedral, Metropolitan United Church, St. Michael's Cathedral, and the Toronto Centre for the Arts. They will perform new works of the greatest composers of Canada.

West choirs have worked under the batons of world famous conductors such as Joseph Flummerfelt, Dennis Keene, Bobby McFerrin, Weston Noble, John Rutter, and Dale Warland. The choir has performed in collaboration with actors F. Murray Abrahams, Leonard Nimoy, and Alan Thicke. The choir has worked with members of Chanticleer. Frequent orchestra appearances have been with the Annapolis Chamber Orchestra, Bucks County Symphony, Musica 2000, New England Symphonic Ensemble, Philadelphia Orchestra, and Philadelphia Youth Orchestra.

Dr. Ohrt serves as a mentor to many young composers and contemporary artists. He appeared on MTV shows School Days and Who Knows the Band, and sang backup in the choir for Barbra Streisand's final concerts, held at Madison Square Garden. He has sung professionally in opera in the United States and Italy and has performed with many of the world's leading orchestras as a member of the Westminster Choir. Ohrt is a member of Pi Kappa Lamda National Music Honor Society and is listed in Who's Who in America and multiple consecutive editions of Who's Who Among America's Teachers. He served on the American Choral Directors Association of Pennsylvania Board of Directors for several years as the Repertoire and Standards Chairperson for High School Choirs and Male Choirs.


11 Octavos from the Joseph Ohrt Choral Series

Click on any TITLE to HEAR (if available) and VIEW the complete score.
| | | | |
| --- | --- | --- | --- |
| TITLE | COMPOSER/ARRANGER | VOICING | |
CHORAL SERIES MAIN PAGE