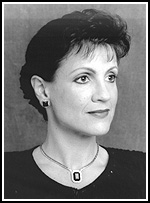 Sharon Hansen
- University of Wisconsin–Milwaukee and Milwaukee Choral Artists

Sharon A. Hansen, esteemed as a conductor and master teacher worldwide, is Professor and Director of Choral Activities and head of Graduate Choral Studies at the University of Wisconsin–Milwaukee. Her UWM Concert Chorale made their Carnegie Hall debut in 1997. Her collegiate and professional ensembles have been featured at state and regional MENC and ACDA conventions, as well as other national conventions.

Hansen holds a Doctorate in Conducting from the University of Missouri–Kansas City Conservatory of Music, where she studied with Eph Ehly and Glen Block. While on sabbatical in Germany, Hansen sang over 65 concerts throughout Europe with conductor Helmuth Rilling and his ensembles. As a result of this study, she authored Helmuth Rilling: Conductor–Teacher. Since 1996, Hansen has been a member of the Editorial Board of the Choral Journal, where she is editor of "On the Voice."

Hansen's respected efforts in voice education garnered her the entire issue of the November 2008 Choral Journal, which she designed and edited. She is author of "Women, Conductors, and the Tenure Process: What's Up in the Academy?," which appears in Wisdom, Wit, and Will: Women Choral Conductors on Their Art. She is Founder and Music Director of the Milwaukee Choral Artists, one of only five professional women's vocal ensembles in the country. She was a founding board member of the Milwaukee Children's Chorus and served on the Board for Milwaukee's Early Music Now. Her professional memberships include ACDA, Chorus America; IFCM, MENC, NATS, The VoiceCare Network, and The Voice Foundation.


9 Octavos from the Sharon Hansen Choral Series

Click on any TITLE to HEAR (if available) and VIEW the complete score.
| | | | |
| --- | --- | --- | --- |
| TITLE | COMPOSER/ARRANGER | VOICING | |
CHORAL SERIES MAIN PAGE