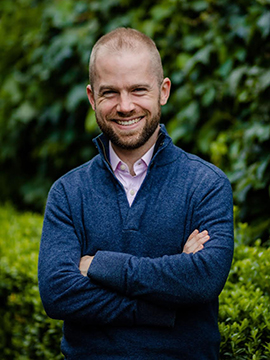 Paul John Rudoi
---
Paul John Rudoi is an award-winning composer, conductor, tenor vocalist, and arts entrepreneur.

Deemed "indisputably unique, confident, and innovative" through the American Prize, Paul's award-winning compositions have been commissioned and performed by various ensembles and artists throughout North America and Europe. His work has garnered numerous grants from the Jerome Foundation, the ACF, MRAC, MSAB, the NEA, and ASCAP. His music is published through PJR Music alongside Graphite, Santa Barbara, Walton, Morningstar, and ECS music publishers.

As a professional tenor vocalist, Paul has performed and recorded a wide range of music in professional ensembles nationwide, including Seraphic Fire, The Santa Fe Desert Chorale, and Cantus. During his tenure in Cantus, he premiered dozens of new works, traveled on four continents, conducted and educated via masterclasses driven by Cantus' artistic and programming model, and advocated for arts education and empowerment through various outreach opportunities nationwide.

Paul is also a fierce advocate for new music trends, resources, and issues. His presentation at the 2015 NDSU Choral Symposium, "LIVING SETS: Choral Organisms for the 21st Century," proposed that the entire choral field should consider new music in the context of composers' lifelong musical contributions, not just one's next popular published work. He is also working on an online platform, "Consortio," designed to help composers, conductors, and ensembles find common themes and interests for consortium-based commissioning while offering tools and services to make such commissioning more readily accessible and feasible.

Paul holds a degree in Vocal Performance from the Hartt School and is pursuing a master's degree in Choral Conducting from the University of Oregon. His teachers have included Sharon Paul, Robert Kyr, Libby Larsen, Edward Bolkovac, and Tyler Flanders. 
---

Paul John Rudoi has 2 titles published with Santa Barbara.
Click on any title below to view the complete score and hear a recording if available.



= See the complete score

= Hear recording

= Watch performance video