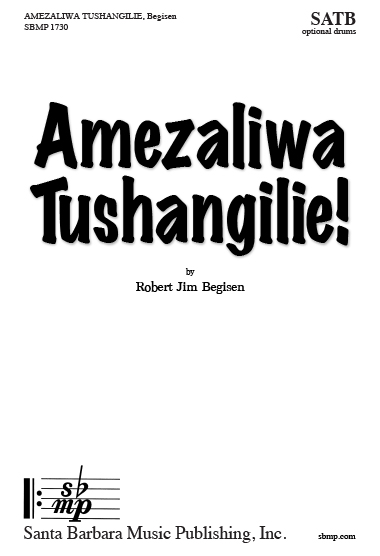 Amezaliwa Tushangilie!
[level: Medium]
Robert J. Begisen
voicing: SATB | catalog number: SBMP 1730 |

duration: c. 3'58 | price: $2.70
accompaniment: optional drum

"Let's Rejoice and Celebrate!" Feature a tenor soloist in this new original Christmas Carol by composer Robert Jim Begisen. Written in Kiswahili, and complete with a phonetic pronunciation guide and translation. Perfect for holiday concerts or any time of year, this piece is great fun and quick to learn. Works well with mixed choirs of all levels and sizes; a cappella, SATB (no divisi) with optional drums (djembe and/or congas).


More Information |

|

| Add to Cart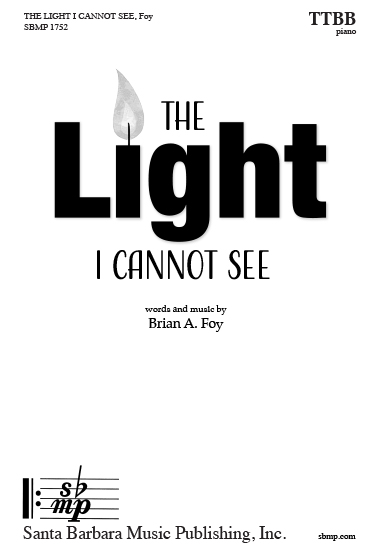 The Light I Cannot See
[level: Medium]
Brian A. Foy
voicing: TTBB | catalog number: SBMP 1752 |

duration: c. 4'04 | price: $2.40
accompaniment: piano

"Play me the music I cannot hear…" A beautiful and heart-warming new piece about neurodiversity for Tenor-Bass ensembles with piano accompaniment. Written in the form of a conversation, this popular-song style choral work flows along with plenty of rhythmic interest and dissonant harmonies. As the piece goes on, the audience learns that the "light" being described represents the unseen value of those who are neurodivergent, and that we can work  through this disconnect in communication if we stand together, regardless of cognitive identities. 


More Information |

|

| Add to Cart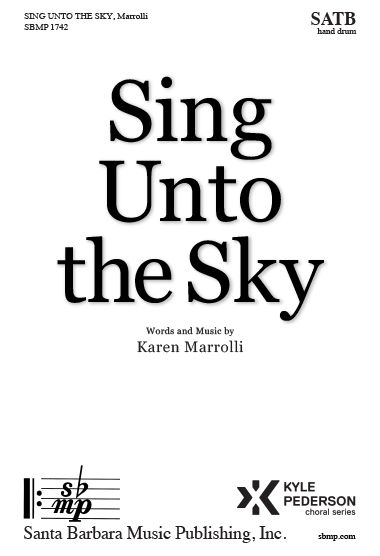 Sing Unto the Sky
[level: Medium]
Karen Marrolli
| Kyle Pederson Choral Series

voicing: SATB | catalog number: SBMP 1742 |

duration: c. 3'00 | price: $2.60
accompaniment: Hand Drum

This bold and exciting new piece by composer Karen Marrolli was inspired by the wild beauty of the High Desert of New Mexico. The delicate relationship between resources and inhabitants in this area of the world highlights our responsibility to be good stewards of the Earth. The music begins simply and builds throughout, illustrating both a growing urgency and a growing and varied chorus of voices coming together to give thanks. SATB a cappella, with a hand drum, this hearty new work makes for an excellent concert/festival opener or processional. The composer provides opportunities in the score for optional solos/small groups, hand claps, and stomps.


More Information |

|

| Add to Cart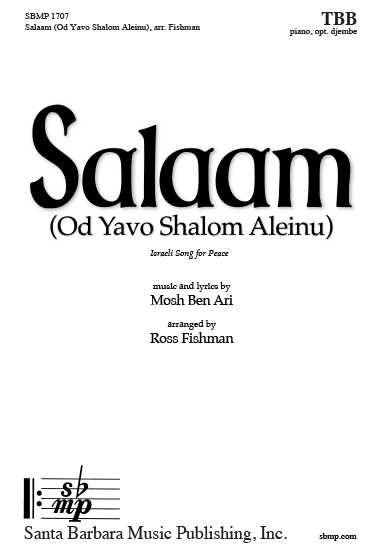 Salaam (Od Yavo Shalom Aleinu)
[level: Medium]
Mosh Ben Ari,
arr. Ross Fishman
voicing: TBB | catalog number: SBMP 1707 | price: $2.50
accompaniment: piano, opt. djembe

Tenor-Bass choirs will have a blast singing this joyful Israeli Song for Peace. This uplifting new arrangement begins slowly and somewhat plaintively, and, as it repeats, gradually increases in tempo and excitement. Sung in Hebrew and Arabic, the text translates as "Peace will come upon us, yet." With accessible ranges, a supportive and tasteful piano accompaniment, hand claps, optional solo opportunities, and optional djembe, this song is sure to be a hit!


More Information |

|

| Add to Cart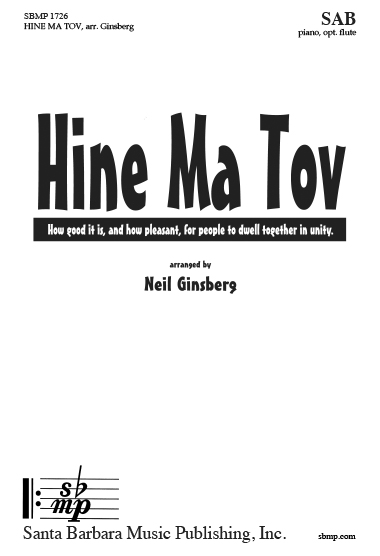 Hine Ma Tov
[level: Easy]
arr. Neil Ginsberg
voicing: SAB | catalog number: SBMP 1726 | price: $2.60
accompaniment: piano, flute

This BEST SELLER is now more accessible than ever in this fresh new SAB setting with piano and optional flute. Perfect for developing voices, this concert/festival piece is exciting and tasteful. Sing it in the original Hebrew or in English.


More Information |

|

| Add to Cart