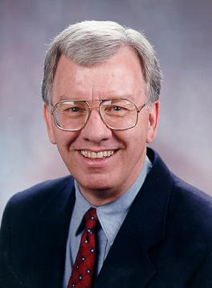 Dr. Terry Barham, Professor of Music and Director of Choral Activities at Emporia State University, has served as guest choral conductor and clinician at the high school and junior high/middle school levels in 20 states. He has presented workshops and clinic sessions on the boys changing voice for American Choral Directors Association state, regional and national conventions and six Music Educators National Conference state conventions. He earned degrees from the University of Illinois (M.S.) and the University of Oklahoma (B.Mus.Ed. and Ph.D.).
Barham's most recent book, Strategies for Teaching Junior High and Middle School Male Singers--Master Teachers Speak, is highly regarded by teachers around the U.S. He is also co-author of The Boy's Changing Voice--New Solutions For Today's Choral Teacher.
The Emporia State University A Cappella Choir, under his direction, has toured Europe six times (1989--France and England, 1992--Austria and Czechoslovakia, 1996--Spain and France, 2001--Denmark and Sweden, 2003--England/Scotland/France, 2006—Austria, Switzerland, and Italy). The choir has been invited to sing in the Cathedral of Saint John the Divine and other venues in New York City in May, 2008.
In July, 2007, Barham was presented the Harry Robert Wilson Award for lifetime service to the choral art by the Kansas ACDA (American Choral Directors Association). Currently, Barham is National Coordinator for State and Division Newsletters for the American Choral Directors Association and chair of the Society for Music Teachers in Education for Kansas. In 2001, he was one of four recipients of the Emporia Chamber of Commerce Golden Apple Award for service to community and for teaching excellence. He is also listed in Who's Who in America, Who's Who among America's Teachers, and Who's Who in American Education.