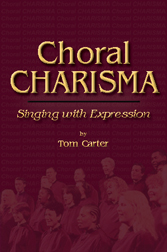 Book: Choral Charisma - Singing with Expression
By: Tom Carter

Catalog Number: SBMP 572 Price: $14.95 ISBN# 978-0-9648071-5-0

NEW:
Digital version available on iTunes for iPad customers
---

click once on a topic to open drop down folder, again to close.

MORE INFORMATION

Are you a choral director who would love your singers to be more expressive?

Are you a singer who wants to sing with passion and authenticity?

Are you a voice teacher who would like to help your students sing with greater presence?

Choral Charisma presents a comprehensive approach, offering techniques and exercises for performers, directors, and teachers at all levels. These skills and insights enable you to bring even more humanity into your singing, teaching, or directing. The heart, mind, body, and spirit can work together to make singing even more fulfilling.


ABOUT THE AUTHOR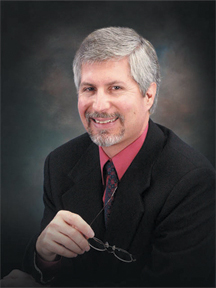 Tom Carter's passion for the performing arts originated with singing. A great high school choral program kicked off his involvement, which then led to acting, stage directing, teaching, and more singing. He earned his BA in Drama Education and his English teaching credential from San Francisco State University, next joining the faculty at Ukiah High School. There he taught English and Drama and directed the drama program for four years. During the summers, Tom taught high school students at the Oregon Shakespeare Festival in Ashland, and studied acting at the Studio of the Actor's Space in New York. Tom's next move was to San José to enroll in the Masters program at San José State University and sing with the Choraliers. His Masters in Music Theatre supported his freelance theatre directing, which led to an eight year stint as artistic director of the Los Altos Youth Theatre, followed by an eight year tenure as teacher, director and department head at Woodside Priory School. Over his 25 year career, Tom has directed over 100 plays and musicals at all levels, performed professionally in numerous choirs and shows, and worked with students of all ages. He currently lives in Northern California where he coaches choirs and teaches voice privately.
To contact Tom, email tpcarter@earthlink.net
BOOK INTRO

On November 9, 2003, in a glorious stone church with impossibly high ceilings, I had the great pleasure of experiencing a concert performed by the UC Berkeley Choral Ensembles. Director Mark Sumner had created a wonderful evening of anti-war songs, interspersed with poems and readings done by individual choir members. His 160 singers (combined) did a spectacular job with the material—they felt it deeply, expressing themselves individually and collectively in such a way that I was spellbound, and deeply moved. It wasn't until the concert was over that I realized I was in pain from sitting on a hard wooden pew for two-and-a-half hours. When talking to some audience members after the show, I realized I was not alone in my appreciation. "The singers were so 'into it,' almost like rock singers. Their faces were so alive and expressive!" was the response of one gentleman. Another audience member said, "Wow! There was something so different about that concert. But in a good way!" These words were proverbial music to my ears, because I had worked with these singers at their retreat and during their dress rehearsal, helping them to create just this kind of experience for themselves and the audience members. To say that I was pleased would be an understatement. The truth is that I am ecstatic to be offering a process that helps singers and directors create more memorable and exciting performances.

While people have used vocal music as a way to connect on a deep, human, "soul" level for millennia, this book introduces a specific approach that demystifies the "soul connection" process, empowering singers and directors to connect to the music, and the audience, with passion and poignancy. And while it's true that there are many wonderful choirs out there, even the best choirs are capable of a deeper connection, one that will engender more exciting and engaging performances.


TABLE OF CONTENTS

Chapter One: Safety First
Self-Test
High Expectations
Respect and Support for All
Help Singers Support Each Other
- Why Pairs or Small Groups?
- Humanistic Discipline
- Respect Starts with Identity
Support the Singers
- Earn Their Trust
- Avoid Too Much Control
- "Discipline" and the Adult Choir
- The Language of Empowerment
- Expect Them to Do What You Ask
Director, Support Yourself
- Conscious Awareness
- A Director's Anger - Trouble with Discipline

Chapter Two: Emotional Vulnerability
What's On Your Mind Is On Your Face
The Science of Emotion
- Jump-Start the Emotion
- The Truth Lies in Our Faces
- The Audience Reads Voices, Too
Connecting to Meaning
The Composer Can't Do It for Us
The House of Connection
The Impact of Connection
Truthful Connection Affects Sound
Face, Voice, and Body
Emphasis and Figurative Language
The Magic Between Choir and Audience
The Singers and Connection
The Joy of Connected Singing
Each Singer's Awesome Responsibility
- Dealing with Emotional Overwhelm
The Director and Connection
When Singers Do More
The Director Can Relax
Learning the Music
The Way You Rehearse Is the Way They Perform
The Comfortable Choir
Inhibitions
The Inner Critic
The Inner Critic Questions
Perfectionism and the Inner Critic

Chapter Three: Truth, Tone, & Technique
Frowning at the Inner Smile
Combining Truth and Beauty
The Outer Smile that Sounds Good
The Emotion Muscles
Experts on Expression
Truthful Connection is Flexible
Movement: the Willow, Not the Oak

Chapter Four: Analyze the Text
Text Analysis Questions
Inspect the Text for the First Time
Text Analysis: Round Two
Religious Text Analysis

Chapter Five: Plot & Character
Summarize the Plot
Identify the Setting
Establish Your Identity
Clarify Your Feelings About the Subject Matter
Biography
Singing as Yourself

Chapter Six: Words & Pictures
Imagery
Imagery's Many Benefits
The Seven Senses Imagery and Emotion
- Imagery and Emotion
Imagery in Action
The Imagery Process Refined
As Rehearsals Continue

Chapter Seven: The Singer Acts
Objectives
The Other

The Other's Reaction
The Obstacle
The Story
Raise the Stakes
Building from Scratch
Analyze the Text
Compare and Contrast
Creating the Story
Plot, but Not Much Else
Plot & Character, but No Story
- The Fourth Wall
"Face" the Director
When the Language is Foreign
Helpful Communication

Chapter Eight: Personal Matters
Let Your Light Shine
Plumbing the Depths
The Whole Truth
The Inner Pot of Gold
Substitution
Expand Your Horizons Inward
The Religion Issue

Chapter Nine: That's Nonsense
Make Sense of the Nonsense
Talk Turkey.
Get Serious
Use Subtext to Affect the Other

Finding Your Groove is Instrumental
Chapter Ten: When the Music Changes
Interior Motivation
Motivating Musical Changes - "The Boy Who Picked Up His Feet to Fly"
- Matching Music and Meaning, Measure for Measure
Repetition
When Singers Are Silent
Before the Downbeat


REVIEWS

"From Tom Carter's heart to mine, yours, and your audience members'—very practical advice and unique exercises for choir conductors and singers. I've already used some of the concepts with my choirs and there is an immediacy in the way they work. The book is truly wonderful."
Mary Alice Stollak
Founding Director, The Michigan State University Children's Choir

"I've been singing for 60 years and I have always had so many feelings I've wanted to include in my singing. These techniques have made that possible for the first time."
Peggy Williams, Singer
Participant in a Choral Charisma workshop

"Tom Carter has written a practical, accessible manual that contains wide-ranging suggestions for assisting choral conductors and their choristers to find freedom and joy in performance. Concentrating on the need for expressive singing, it is a useful addition to the choral conductor's library."
Richard Miller, Internationally-known tenor, author, adjudicator, professor of singing, Oberlin Conservatory of Music.

"Choral Charisma can help choral conductors and singers transform musical scores into living, breathing music and themselves into fully alive, expressive human beings. This book has been missing from the choral conducting profession's library for far too long a time. Here it is!"
Leon Thurman
founder of The VoiceCare Network, principal author and co-editor of Bodymind & Voice: Foundations of Voice Education, and Specialist Voice Educator at Fairview Voice Center, MN.

"Tom Carter not only documents the many reasons singers must be totally connected to text, he also provides exercises to help singers sing "from the heart" during rehearsals and in performance. Choral Charisma is must reading for every choir director!"
Charlene Archibeque
Professor, San José State University

Superb book. When Charlene [Archibeque, the group's clinician] told my choir that you were writing it, I was excited. I was trying to formulate a plan to incorporate our drama teacher into my curriculum to get my students to connect. And lo and behold, here's your book! The first chapter, which should be required reading of all teachers, is worth the reading alone.
Brad Hayashi
Dir. of Choral Activities at Mount Whitney H.S., Visalia, California

I have just finished your book and I want to tell you that I loved it! Congratulations on writing the text that should marry drama and music in the eyes (and rehearsals) of many choral singers.
Jeff Johnson
Associate Professor and Dir. of Choral Activities at the Univ. of Kentucky, and author of the DVD, Ready, Set, Sing!

While on sabbatical this past year I read your book and was delighted to find very fine practical ideas about helping singers get to a place of openness and expessiveness in their singing. This is something we've been focused on for some time, and your book introduced a series a tools and exercises that were totally new to me and very helpful.
Joshua Habermann
Assistant Professor of Music at San Francisco State University

It is really terrific, Tom. I hope all choral musicians read it!
Susan McMane
Artistic Dir. of the San Francisco Girls Chorus, Dir. of Chorissima

I have read your book and just wanted to let you know that it is really outstanding. Thanks for writing this most valuable resource. You have decided to tackle an issue that is without question, one of the biggest problems facing choral music today -- lack of connection to the music and to the audience. As an adjudicator of choral festivals and guest conductor for honors choirs in NY, I have noticed this to be an issue that needs to be reinforced time after time. It is just not being taught to choirs at every level. The techniques in the book have already worked wonders with my select chorale of about 80 here at school.
Norm Zogaib
Choral Director at Hamburg High School, Hamburg, New York

Bought it. Got it. Love it.
Chris Guerra
Choral Director at the Loiederman Middle School for the Creative and Performing Arts, Silver Spring, Maryland

I picked up your book at the ACDA Conference in February. It is very inspiring and encouraging. Your book has made me re-think my teaching.
Shawn Reifschneider
Choral Music Teacher at Hillsdale High School, San Mateo, California



BACK TO MAIN BOOK PAGE