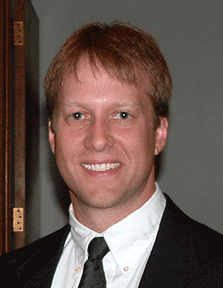 Brad Burrill
---
Brad Burrill (b. 1970) began composing at age 15. His compositions are primarily choral, and he has written for many ability levels, specializing in a cappella works. In 1998, he served as Assistant Director of Music and Composer in Residence at Christ United Methodist Church, in Rochester, MN. A 1992 graduate of UW-Milwaukee with a Bachelor of Fine Arts degree in Vocal Music Education, Brad has been a public school music teacher for 13 years, working with students in grades 1-12 during that span. He is also an accomplished baritone soloist and actor, and has directed musical theater productions at the elementary, high school and community theatre levels. Brad currently lives in Baraboo, Wisconsin with his wife and two sons, and is the choral director at Wisconsin Dells High School.
---

Brad Burrill has 2 titles published with Santa Barbara.
Click on any title below to view the complete score and hear a recording if available.



= See the complete score

= Hear recording

= Watch performance video