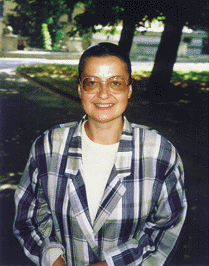 Kristina Vasiliauskaite
---
Kristina Vasiliauskaite (b.1956) was born in Vilnius, Lithuania. She comes from a large family of musicians. Her father played trombone in the Vilnius Opera Theater Orchestra, her brother Bernardas is the organist at the cathedral in Vilnius, and another brother, Augustinas, plays cello in the Lithuanian String Quartet. She studied musicology and composition (with Eduard Balsys) at the Lithuanian Academy of Music, graduating in 1980. From 1983 to the present she has taught at the C+iurlionis Art School in Vilnius. Her principal compositions include Sinfonietta for Orchestra, a cello sonata, Chamber Sonata for Organ, Missa Brevis for children's voices, and Fantasie for Organ.
---

Kristina Vasiliauskaite has 7 titles published with Santa Barbara.
Click on any title below to view the complete score and hear a recording if available.


| | | | |
| --- | --- | --- | --- |
| Missa Brevis in Honorem Beatae Mariae Virginis: Agnus Dei | SATB | SBMP 268 | |

= See the complete score

= Hear recording

= Watch performance video