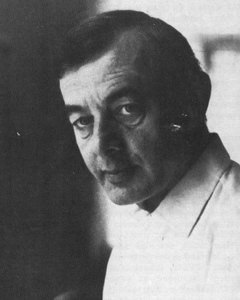 Veroslav Neumann
---
Veroslav Neumann, (born May 27, 1931 at Citoliby near Louny in the Czech Republic; died 2006 in Prague) was Director of the Music Conservatory in Prague. Educated at the Prague Academy of Arts, he is a prolific composer. A considerable share of his work is represented by vocal compositions. Many of his songs for children have been included in various anthologies in the USSR and Germany where they have become a permanent part of the repertoires of local choirs. His choral works have been awarded prizes at the International Choral Competition in Tours, at the World Festival of Democratic Youth and Students in Warsaw, in Helsinki, and in Prague. Veroslav Neumann also possesses an intimate knowledge of instruments and has written instructive works for diverse instrumental and chamber ensembles. On a larger scale, his compositions includes three chamber operas, numerous instrumental chamber works, and works for symphonic orchestra.
---

Veroslav Neumann has 1 titles published with Santa Barbara.
Click on any title below to view the complete score and hear a recording if available.