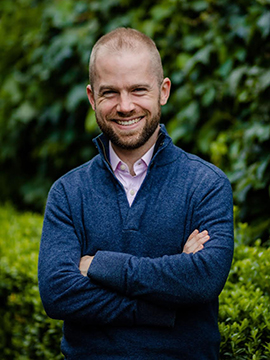 Paul J. Rudoi
---
Paul J. Rudoi, tenor vocalist and composer, has performed and recorded a wide range of music as a soloist and in various ensembles around the country, most recently in the male vocal ensemble Cantus. Early on in his career he sang with the Blanche Moyse Chorale, the Sons of Orpheus, and the American Boychoir, and performed various roles including Monastatos in Mozart's Die Zauberflote, Orpheus in Offenbach's Orpheus in the Underworld, and the title role in Carissimi's oratorio Jonas. Since joining Cantus in the fall of 2008, he has worked with such respected artists as Bobby McFerrin, The Saint Paul Chamber Orchestra, and The James Sewell Ballet, and has premiered new works by several composers, including Maura Bosch, Mary Ellen Childs, and most recently Nico Muhly.

Though Paul composes for various instruments, his primary focus has always been vocal music. In March of 2010, Paul was awarded a Subito Grant from the American Composers Forum to record several of his choral works, and two of these recordings, Thrice Is Sweet Music Sweet and an arrangement of Amazing Grace, were show-cased on Minnesota Public Radio's "Regional Spotlight" program in October. His compositions have been included in Vox Novus' 60x60 Project, Boston Metro Opera's Contemporary Americana Festival, Boston New Music Initiative's recital series, and Vocal Essence's Essentially Choral program, where he was chosen among the four participating composers for a new commission to be premiered in June of 2012. He was the winner of the Milwaukee Choral Artists' first Young Composer Competition, a finalist in the Young New Yorkers Chorus Competition, and the recipient of an honorable mention in the Boston Choral Arts Ensemble's Composition Competition.

Paul holds a degree in vocal performance from the Hartt School in Hartford, Connecticut.
---

Paul J. Rudoi has 2 titles published with Santa Barbara.
Click on any title below to view the complete score and hear a recording if available.