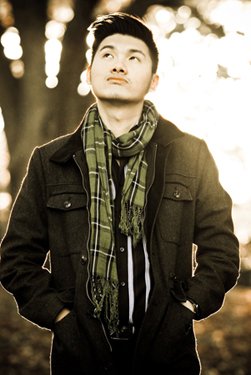 Saunder Choi
---
Saunder Choi (b. 1988) is an emerging young Filipino composer and is one of the more accomplished choral composers in the Philippines. He has written several commissioned works and arrangements for choirs from the Philippines, Finland, Argentina, US, etc. His works and arrangements have been performed and premiered in different national and international goodwill tours and concerts, including the Philippine Madrigal Singers' UNESCO Artists for Peace 2009 awarding ceremony, the 2010 Guido d'Arezzo Polifonico Choral Competition in Italy, the 2011 9th World Choral Symposium in Argentina, and more recently, the 2012 World Choir Games in Ohio. In 2007, his arrangement was chosen as one of the 15 winning, published entries in Awiting Bayan para sa Korong Pilipino, a national Philippine folksong choral arranging competition sponsored by the National Commission for Culture and Arts in the Philippines. He was a 2012 ASCAP Morton Gould Young Composer Award finalist and recently received the Leroy Southers award from the Berklee College of Music Composition Department.

  From 2008-2011, he sang tenor and arranged music for the world-renowned Philippine Madrigal Singers, joining them in several national and international goodwill tours, festival participations, etc. He also directed the Philippine Cultural College Annex Campus Youth Choir from 2006-2011, leading them to participate in local festivals and competitions. He served as the assistant conductor of The Covenant Singers, with Dr. Beverly Shangkuan-Cheng as conductor, from 2008-2009. He is currently the music director of the Tenuto Chamber Singers, a Berklee student-run chamber choir that focuses on premiering new music written by Berklee student composers. He also currently sings with the First Church in Boston Choir and the Boston Choral Ensemble.

Born in Manila, Philippines, he holds a Bachelor of Arts major in Communication Arts degree from the De La Salle University-Manila, honorable mention, class of 2010. He is currently taking up studies in music composition at the Berklee College of Music in Boston, MA. 
---

Saunder Choi has 1 titles published with Santa Barbara.
Click on any title below to view the complete score and hear a recording if available.