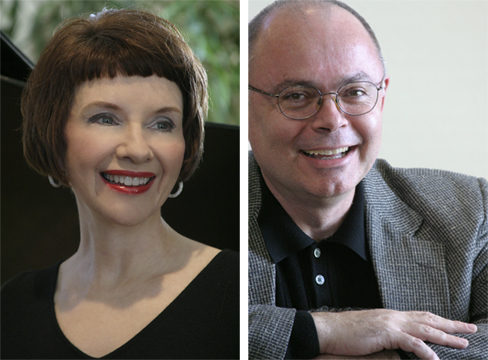 Victoria Davison and Rudy Lupinski
---
Davison-Lupinski, Composers (Summary)

Victoria (Tori) Davison received her Bachelor of Fine Arts Degree in Voice-Teaching from Tulane University. From 1998-2001, Davison studied music composition with the late Bob Parr, a well-known Oklahoma professional musician and teacher who, in turn, had studied under Paul Hindemith. In 1999, Davison's first choral anthem debuted at St. Luke's Episcopal Church in Ada under the direction of Bob Parr. And in 2004, her first three choral anthems were premiered by the East Central University Chorale under the direction of Dr. Steven Walker. Rudy Lupinski received his Bachelor of Arts Degree in Instrumental Music Education from East Central University (ECU) in 1976 and did graduate work in Music Theory at the University of North Texas in Denton, Texas. In 2004 Rudy became an adjunct professor at ECU, and in 2012 he became a full-time faculty member. He teaches music theory, piano, and serves as the university's staff accompanist. He is also music director and organist at St. Joseph Catholic Church in Ada. In 2005, Tori Davison and Rudy Lupinski formed a musical partnership in creating choral music. Tori provides the subject and vocal parts and Rudy provides the arrangement, accompaniment (if needed) and edits. To date, they have completed 60 compositions, including their first large-scale work, Requiem. They also have 10 other works pending at this time. Currently, Davison-Lupinski are the Resident Composers for the University Chorale and the ECU Singers which are under the direction of Dr. Steven Walker, East Central University, Ada, Oklahoma.
---


Victoria Davison and Rudy Lupinski has 2 titles published with Santa Barbara.
Click on any title below to view the complete score and hear a recording if available.


| | | | |
| --- | --- | --- | --- |
| O nata lux | SATB | SBMP 1427 | |
| | | | |
| --- | --- | --- | --- |
| Tota pulcra es, Maria | SATB div. | SBMP 1339 | |

= See the complete score

= Hear recording

= Watch performance video