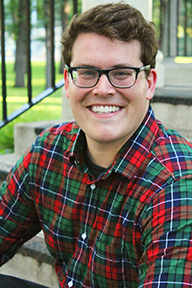 Isaac C. Lovdahl
---
Isaac C. Lovdahl (b. 1993) graduated 'magna cum laude' from Concordia College in May 2015—receiving a B.M. in Vocal Music Education. Currently, he is employed as a high school choir director and 6th-grade general music teacher for the Sartell-St. Stephen school district. He also works as the choir director at Celebration Lutheran Church. During his time at Concordia, several student ensembles performed Lovdahl's music—he also served as the bass section leader of The Concordia Choir during his junior and senior years. He hopes to pursue graduate work in 'choral conducting' some time in the coming years, and would like to incorporate his passion for composing into his career as a conductor/educator. Although Lovdahl composes primarily for choir, he has recently begun working on a number of pieces for chamber orchestra.
---

Isaac C. Lovdahl has 1 titles published with Santa Barbara.
Click on any title below to view the complete score and hear a recording if available.