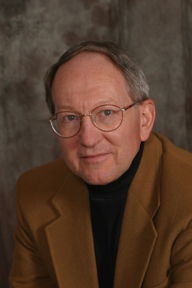 Clyde Thompson
---
Clyde Thompson (b. 1947) has pursued a multi-faceted career as a teacher, performer, director and composer. For eighteen years he served on music faculties of colleges in West Virginia, Illinois and Oregon. Thompson holds degrees in composition and choral directing from the University of Minnesota, Eastman School of Music and the University of Missouri-Kansas City. He has recently retired from full-time teaching in order to devote time to other professional goals in performance and composition. He is founder and director of the new Central Oregon Mastersingers, a 45 voice auditioned choir based in Bend that had its premiere performance in fall of 2005. He plays French horn in the Central Oregon Symphony and is a member of the Obsidian Opera Company.

Thompson has composed extensively for choruses and instrumental ensembles. His works have been published by Mark Foster Music Company, Roger Dean Music Company, and Editions Viento. His music has received performances throughout the United States and also in Europe and South America. He has studied composition with, among others, Dominick Argento and Samuel Adler.
---

Clyde Thompson has 1 titles published with Santa Barbara.
Click on any title below to view the complete score and hear a recording if available.



= See the complete score

= Hear recording

= Watch performance video