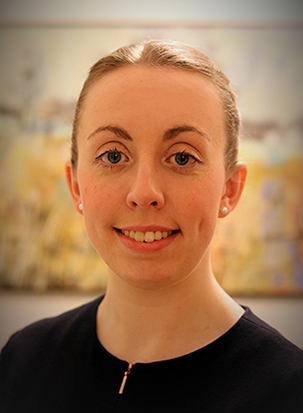 Lynsey Callaghan
---
Following an undergraduate degree in music education (Trinity College Dublin and DIT Conservatory of Music) and a master's degree in choral conducting (Royal Irish Academy of Music and Trinity College Dublin), Lynsey Callaghan is currently undertaking a PhD in medieval musicology in Trinity College Dublin, Ireland. During her undergraduate degree, Lynsey studied at the Kodály Institute of the Liszt Ferenc Academy of Music in Hungary. She has studied with Dr Doreen Rao in both Ireland and Chicago and holds Level 3 certification from the CME Institute. In addition to her doctoral studies, Lynsey is undertaking extensive training in orchestral conducting. She has conducted the RTÉ National Symphony Orchestra, the RTÉ Concert Orchestra, and the Ulster Orchestra.

Lynsey is passionate about providing opportunities for excellence in youth choral music. In October 2017, Lynsey founded Dublin Youth Choir. Dublin Youth Choir aims to fill the regional gap in incremental choral music education in Dublin. Dublin Youth Choir comprises Chamber Choir, Youth Choir, Male Voice Choir, and Junior Choir, and DYC is still growing! Dublin Youth Training Choir will begin in 2019. Lynsey is also the Musical Director of the Belfast Philharmonic Youth and Chamber Choirs. As both the Belfast Philharmonic Youth and Chamber Choirs and Dublin Youth Choir share a philosophy of music education that is inspired by Kodály, the development of musicianship is at the heart of the work of both organisations. The Belfast Philharmonic Chamber Choir and Dublin Youth Chamber Choir have joined together for a number of projects as the Cross Border Youth Choir. They have worked with the BBC Singers, performed at the City of Derry International Choral Festival, and recorded for the Royal Albert Hall.

Since developing her pedagogical and musicianship skills at the Kodály Institute in Hungary, Lynsey has worked as a musicianship tutor for the National Youth Choirs of Great Britain, Irish Youth Training Choir, Irish Youth Choir, Ulster Youth Training Choir, and Ulster Youth Choir. In 2016, she was appointed Head of Musicianship for Youth Choir Kenya and Conductor of the Junior Youth Choir of Kenya. She is currently the conductor of the Ulster Youth Junior Choir. She has taught solfege on the undergraduate music degree in Trinity College Dublin and has taught conducting on the Kodály Society of Ireland's annual summer course. Lynsey was Conductor in Training 2012–14 for the RTÉ Performing Groups and the Association of Irish Choirs. In this position, she conducted Irish Youth Choir, Irish Youth Chamber Choir, and Ulster Youth Choir and became the assistant chorus master to the RTÉ Philharmonic Choir, the symphonic chorus of the National Symphony Orchestra.
---

Lynsey Callaghan has 1 titles published with Santa Barbara.
Click on any title below to view the complete score and hear a recording if available.