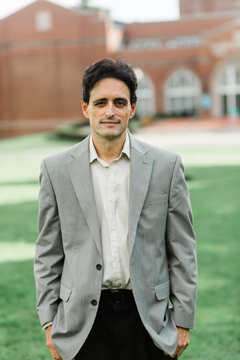 Mike Kregler
---
Accomplished composer, arranger, and accompanist Mike Kregler was born in New York, New York. He earned both undergraduate and master's degrees at the University of Miami before beginning his wide-ranging career in music.

As composer and arranger, Mike composes regularly on commission has been published by Walton and GIA for his compositions Soldier's Elegy, The Baby's Dance, and Heart, We Will Forget Him!. In 2016, he had the honor of having Now Winter Nights, a major work for chorus and orchestra, premiered by the Warwick Symphony Orchestra and a RI ACDA Select Chorus. Thinking of you and all that was.... for women's chorus and piano was commissioned in 2017 by Regina McAdam, director of choirs at North Smithfield High School. Other recent compositions include Sabor for SATB chorus and piano (premiered by the Brockton High School Chorus under the direction of Matthew Cunningham), and Alleluia (composed for the Massachusetts Tri-County Choral Festival under the direction of Dr. Teresa Coffman. In April, 2018, Into Your World, a choral composition about neurodiversity, inspired by the composer's autistic son, Joe, was premiered at Providence College by the dynamic voices of I Cantori under the direction Dr. T.J. Harper.

As accompanist and pianist, Kregler has developed the reputation for being equally adept in the fields of jazz, opera, choral music, art song, chamber music, musical theater, and popular music. He is passionate about collaborating with seasoned artists as well as helping to motivate and stir the talents of young musicians. Mike has played extensively throughout the Northeast and currently serves as faculty accompanist and lecturer at PC.

When not accompanying or composing, Mike enjoys "mucha parranda" with his Colombian friends, dancing, dining, cooking, and pulling shots of espresso. He lives in Lincoln, RI. with his wife, flutist Mary Ellen Kregler, and his sons James Joseph, Anthony Thomas, and Joseph Celio.
---

Mike Kregler has 1 titles published with Santa Barbara.
Click on any title below to view the complete score and hear a recording if available.



= See the complete score

= Hear recording

= Watch performance video