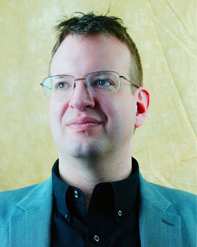 Luke D. Rosen
---
Luke D. Rosen received his BM in Choral Music Education and his MM in Choral Conducting Performance at Bowling Green State University, where he was also a composition student, studying with Marilyn Shrude, Burton Beerman, Samuel Adler, Elainie Lillios, Donald Wilson, and Wallace DePue. Vocal teachers have included Mary Alexander (Cincinnati) and Christopher Scholl (BGSU), and conducting teachers have included Mark Munson and Emily Freeman Brown (both at BGSU).

In 2000, he became Director of Music Ministry at Corpus Christi University Parish at the University of Toledo. In 2004, he also became the Director of Choral and Liturgical Music at St. Johnís Jesuit High School in Toledo. He has taught Menís Chorus, Middle School Chorus, AP Music Theory, Music Technology, and Songwriting. Working closely with Campus Ministry at St. Johnís Jesuit, he has also been a regular Kairos Retreat director and a Sophomore Retreat director, leading student retreats several times a year. He also is Vocal Director and Pit Conductor for musicals at St. Johnís Jesuit.

In addition to his church and school, premieres of his compositions have been given by various artists and ensembles at BGSU, the Cleveland Chamber Symphony, the Singing Men of Ohio (Ohio University), Bloomfield Hills High School (Bloomfield Hills, MI), Toledo School of the Arts (Toledo, OH), and the Tower Brass Quintet (Toledo, OH).

He has also served as a counselor at several vocal camps for high school and middle school students. At BGSU, he was a counselor and accompanist for the Summer Music Institute Vocal Arts Camp for 13 years. He has also assisted at camps hosted by the University of Dayton Voice Department and Pilgrim Hills United Church of Christ Camp (Millersburg, OH).

When he's not making music, he can be found running (although usually still composing during each run), hiking (in northwest Ohio, Great Smoky Mountain National Park, or anywhere else he can escape into the woods or mountains), cooking (serious food and beverage connoisseur), birdwatching (especially during the spring warbler migration in the Lake Erie marshes), studying geology and mineralogy, and stormchasing (usually safely, but no guarantees).
---

Luke D. Rosen has 1 titles published with Santa Barbara.
Click on any title below to view the complete score and hear a recording if available.



= See the complete score

= Hear recording

= Watch performance video