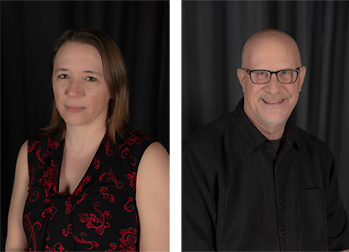 Debra E. Stempien & Gregory H. Turner
---

Debra E. Stempien (B.A. Music Composition, Susquehanna University; M.A. Music Theory, University of Michigan) is a professional saxophonist, private instructor, and composer/arranger.

Gregory H. Turner (B.M./M.M. Music Education, Eastman School of Music) is a retired public school music teacher and choral director. He has been an actively performing jazz pianist, vocalist, and accompanist for 45 years.

As partners in the duo Standard Time, Debra and Gregory perform over 240 shows per year playing their own arrangements of American jazz and pop standards and have over 100 titles available for purchase through SMP Press. They coach multiple student ensembles, and they teach theory and composition to young students at a local public school.


---


Debra E. Stempien & Gregory H. Turner has 2 titles published with Santa Barbara.
Click on any title below to view the complete score and hear a recording if available.



= See the complete score

= Hear recording

= Watch performance video