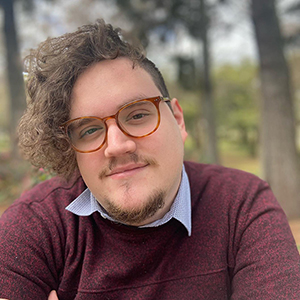 James Keller
---
James Keller (b. 1997) is a composer and conductor from Kansas City, Missouri. James received a Bachelor of Music in Composition from the University of Missouri - Kansas City, where he studied with Pulitzer Prize-winning composers Chen Yi and Zhou Long, among other distinguished faculty. James is currently completing his Master of Music in Choral Conducting at Louisiana State University. Recently, James was commissioned as part of the annual Choral Arts Initiative PREMIERE | Project Festival, and is the founder and Artistic Director of the Baton Rouge Artists of Choral Excellence (BRACE) New Music Choir.
---

James Keller has 1 titles published with Santa Barbara.
Click on any title below to view the complete score and hear a recording if available.


You

-

NEW

SATB
SBMP 1713

= See the complete score

= Hear recording

= Watch performance video