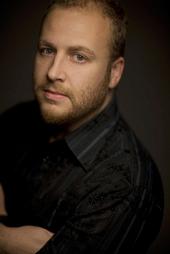 Eric William Barnum
---
A choral director and composer, Eric William Barnum (b. 1979), is currently a DMA candidate in choral conducting at the University of Washington under the direction of Dr. Geoffrey Boers. He holds a B.A. in Music with emphases in Composition and Vocal Performance from Bemidji State University. He also has an advanced degree in Choral Conducting from Minnesota State University, Mankato under the direction of Dr. David Dickau. Eric William Barnum's compositions have been performed throughout the United States, Canada, and Europe. He recently was named the commissioned composer for 2007 Minnesota All-State Choir. He also received honorable mention in the 2006 Morton Gould Young Composer Competition and was a winner of the 2006 Vocal Essence Essentially Choral Competition. He was a recipient of both a Bush Foundation Artist Fellowship and a McKnight Foundation Grant in 2005. He was the Composer-in-Residence for Kantorei, a professional ensemble based in Denver, CO for the 2005-2006 season as well as the Composer-in-Residence for The Rose Ensemble, an acclaimed early music ensemble in the Minneapolis-St. Paul area in 2004-2005. He received a JCCP Composers Grant (funded by the Jerome Foundation in association with the American Composer's Forum) in 2004. He also was the winner of the Chanticleer Composer Competition in 2003 with She Walks in Beauty, premiered by the world-renowned ensemble. With a growing list of published works, his pieces have been chosen for ACDA conventions and All-State's nationwide as well as several international tours.
---

Eric William Barnum has 4 titles published with Santa Barbara.
Click on any title below to view the complete score and hear a recording if available.



= See the complete score

= Hear recording

= Watch performance video