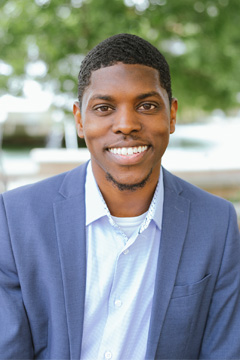 Alvin Trotman
---
Award-winning composer Alvin Trotman [b. 1989] is one of today's emerging voices in classical contemporary composition. His music has been commissioned, premiered, and performed throughout the United States by ensembles ranging from middle schools to university ensembles and beyond into some of the most esteemed professional choirs and orchestras. Works of his have also made their way internationally as far away as France and Spain. A graduate of the Meadows School of the Arts at Southern Methodist University, Alvin's music continues to extend into the choral repertoire. 

Born in Texas in 1989, Alvin never aspired to become one of the fresh young composers of the 21st century. Having been in choirs from a young age, his musical passions became more apparent during his middle school and high school years as he began to excel in piano and voice, completing his first choral composition, The Lord's Prayer, as a high school senior. Alvin went on to earn a Bachelor of Music from Midwestern State University, studying voice and composition and receiving many publications of his works as well during that time. After graduating in three years in 2011, he then continued to pursue composition and conducting at the graduate level, earning a Master of Music in 2013 from Southern Methodist University in Dallas, Texas, studying with Robert Frank and Simon Sargon.

Alvin's music has also garnered awards such as the 2012 Delaware Valley Chorale Young Composer Award and the 2012-2013 William H. Lively Student Composer-in-Residence, featuring an original composition for the Enviso Symphony Orchestra. His Psalm 23, written in 2009, has been toured numerously by university ensembles as recently as 2016 and his reflective work, Clearing at Dawn, continues to be one of his highest-selling pieces.

As an accomplished vocalist, Alvin has sung professionally in choirs and performed and conducted with icons like Joshua Habermann and Anton Armstrong

Over the past decade, many of Alvin's works have gained widespread attention and, in 2018, he was commissioned by the professional chamber choir The Texas Voices to write a new work for their 15th season. Now with his own publishing catalog, Alvin's music continues to illustrate innovation, from his Shadows of Twilight, in which the choir, with only vowels, journeys through the Amazon rainforest, to his more introspective piece, Autumn, which uses grocery bags throughout to mimic the sounds of leaves rustling. His music, often described as "luminous" and "hauntingly beautiful," features evocative, shimmering harmonies and explores the full range of colors from the ensemble. Alvin's works have been programmed alongside some of the leading composers of this generation: Rene Clausen, David Conte, Moses Hogan, Frank Ticheli, Ola Gjeilo, and Eric Whitacre.

Alvin's music, though inventive, maintains practicality and beauty, which gives it the capacity to reach both the seasoned and first-time audience member. With his music in increasing demand, Alvin strives to attain a place in the forefront of classical contemporary composition.
---

Alvin Trotman has 1 titles published with Santa Barbara.
Click on any title below to view the complete score and hear a recording if available.



= See the complete score

= Hear recording

= Watch performance video