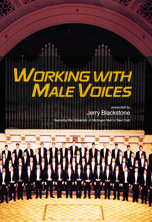 DVD: Working with Male Voices
presented by: Jerry Blackstone
featuring the University of Michigan Men's Glee Clee Club
catalog number: SBMP663 Price: $19.95





The topics covered include

Music-based choral tone: repertoire and the musical challenges inherent therein determine the vocal precedures needed to communicate the composer's intent.

Tone and the singing male: beautiful/appropriate choral tone; warm-ups; rehearsals of works which utilize different timbres and which present particular challenges for the singing male, such as tessitura, register changes, and vowel color.

Voice classification: what does one look for and hear when deciding in which sections singers should be placed?

Tonal consistency throughout the range-a particular problem in men's voices: warm-ups with the group which deal with the problem; demonstration using pieces in which consistency is problematic, particularly as it affects intonation.

Intonation issues (probably the biggest issue for untrained singers): discussion followed by a demonstration of warmups and rehearsal techniques which help.

Rehearsal procedures: using head voice, or falsetto, is highly effective in dealing with intonation issues and in introducing foreign languages.

Communicative choral singing: what makes a particular performance "moving" or "exciting"?

Live performances: starting with warmups, then progressing through an initial rehearsal, a rehearsal later in the process, and then a live performance to demonstrate what has been discussed; examples for playback in classroom situations.



BACK TO MAIN DVD PAGE
---