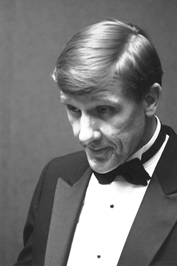 Ronald Kauffmann
---
Ronald Kauffmann (b. 1949) serves as Director of Music Ministries, Canyon Creek Presbyterian Church, Richardson, Texas. A native of Elkhart, Indiana, he received his undergraduate degree from the University of Evansville (IN), and his Master of Music degree from Southern Methodist University where he studied the choral art under Lloyd Pfautsch and Carlton Young, contemporary composition under Eugene Ellsworth, and orchestral conducting under James Rives Jones. After a three-year stint teaching at Padacah Community College (KY) where he conducted the Paducah Community Chorus, he served churches in Champaign, IL and Davenport, IA, before returning to Dallas to serve its downtown First United Methodist Church, his previous appointment.
---

Ronald Kauffmann has 1 titles published with Santa Barbara.
Click on any title below to view the complete score and hear a recording if available.



= See the complete score

= Hear recording

= Watch performance video