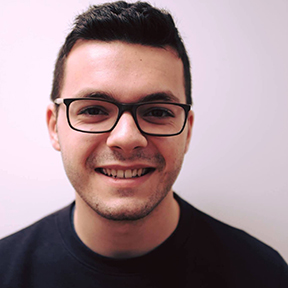 E.K.R. Hammell
---
E.K.R. Hammell (Evan) is a Canadian composer, arranger, and music editor interested in the pursuit of forward momentum. A recipient of the Lloyd Carr- Harris Composition prize, his original music and arrangements have been performed by such artists and ensembles as the Canadian Men's Chorus; Denis Wick Canadian Wind Orchestra; PEI Symphony Orchestra; Washington All-State Honor Band; That Choir; Saskatchewan Honour Band; Charlottetown Festival Orchestra; Confederation Brass; and the University of Toronto Wind Ensemble. As a professional sheet music engraver and score editor he has prepared scores for the likes of: the artistic director of the largest Bollywood festival in Canada; acclaimed Canadian classical-contemporary composers Larysa Kuzmenko and Imant Raminsh; and leading Canadian musical theatre MD Bob Foster – including a new edition of the conductor/vocal book for a Guinness World Recordbreaking musical (Anne of Green Gables – The Musical). Evan is currently based in Toronto, having received a Bachelor of Music Composition from the University of Toronto in 2017. Aside from devising pretentiously abbreviated stage names, his hobbies mainly involve playing bass trombone, watching cat videos, and being bad at cooking.
---

E.K.R. Hammell has 1 titles published with Santa Barbara.
Click on any title below to view the complete score and hear a recording if available.



= See the complete score

= Hear recording

= Watch performance video