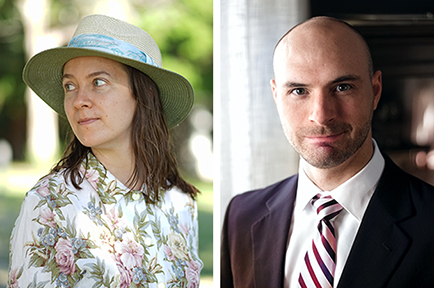 Jane Kozhevnikova & Joel Snyder
---
Jane K (Evgeniya Kozhevnikova) is a composer, pianist, and educator. Her works have been performed at regional, national, and international level music events. She composes in various styles, tastefully blending them. In 2019, she received a DownBeat Outstanding Performance award in the Latin jazz category. In 2020, she released a jazz-tango album Tango Avenue, and in 2022 an album of her art songs Lift Up Your Hearts. She holds two masterís degrees, in Music Composition and Music Performance, from Western Michigan University and is working on her doctorate degree in Music Composition at the University of Florida.

Joel Snyder brings over a decade of experience in choral conducting, creativity, and entrepreneurship to his choral ensemble, Celebris. He loves working with choirs of all ages and skill levels, from young children to senior citizens, from untrained singers to professional singers. He is the former choral director at Vandalia Christian School in Greensboro, NC, and the Battle Creek Boychoir and Girls Chorus in Battle Creek, MI. He has toured with his choirs in the U.S., Canada, and Italy. He finished a M.M. in Conducting from Western Michigan University in 2017 and is currently directing choirs for West Michigan Homeschool Fine Arts. A professional singer, adjudicator, and entrepreneur, Joel has performed and worked all over the globe.
---


Jane Kozhevnikova & Joel Snyder has 1 titles published with Santa Barbara.
Click on any title below to view the complete score and hear a recording if available.



= See the complete score

= Hear recording

= Watch performance video