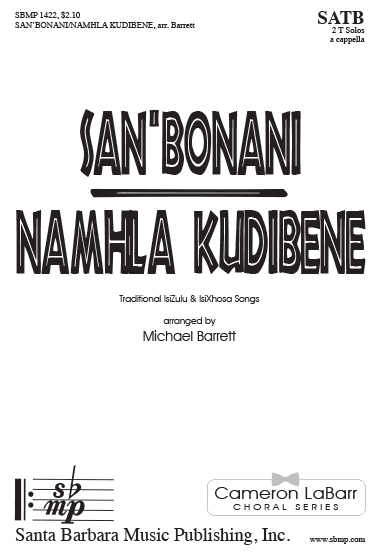 San'bonani/Namhla Kudibene
[level: Medium]
arr. Michael Barrett:
Bio and other works
voicing: SATB - 2 T solos | catalog number: SBMP 1422 | price: $2.10
accompaniment: a cappella


A typical greeting in the Zulu culture, San'bonani is written with the call-and-response technique so strongly associated with traditional South African music. The soloists can be male or female and can take their time when performing their parts. This song can be used as an introduction to a program. It is intended to welcome the audience. The response from the choir "Hololo hololo" is jubilant and may contain ululating and other traditional African noises. Simple hand gestures and waving towards the audience are appropriate. The choir may choose to walk onto stage while singing this piece. For an authentic performance, see the Tuks Camerata performance on YouTube.
University of Pretoria Camerata, Michael Barrett, conductor [© all rights reserved]

CLICK HERE: See and Hear the Complete Score or download a perusal copy: HERE


CLICK HERE: Read the Text or Poem
San'bonani
San'bonani – Good morning/Hello
Nonke – all of (you) – everybody
Nisaphila nje? – Are you well?
Hololo – no meaning
Translation
Hello everybody, are you well? Hololo hololo – are you well?

Nengonyama – (and) lion
Namhla kudibene – today, jointly
Ingwe – tiger
Nengonyama – (and) lion
Wen'uyabizwa – we must respond/retaliate
Sabela – we will react
Translation
Today we are together
(Like) the Lion and the Tiger
We have to respond (to the threat of war)
We will react


CLICK HERE: Composer Notes
San'bonani Performance Notes
A typical greeting in the Zulu culture, San'bonani is written with the call-and-response technique so strongly associated with traditional South African music. The soloists can be male or female and can take their time when performing their parts. This song can be used as an introduction to a program. It is intended to welcome the audience. The response from the choir "Hololo hololo" is jubilant and may contain ululating and other traditional African noises. Simple hand gestures and waving towards the audience are appropriate. The choir may choose to walk onto stage while singing this piece. Simplicity is key here – no fancy dynamics and tempo changes are needed. San'bonani for mixed voices was the opening of a medley of traditional pieces performed by the Tuks Camerata at the 8th World Choir Games held in Riga, Latvia. It can be used as an introduction to other traditional African pieces.

Pronunciation Guide
All vowels are pure as in Latin.
The "h" in nisaphila is silent – thus it is pronounced nisapila nje


Namhla Kudibene Performance Notes
In many of the Nguni cultures (Xhosa and Zulu), singing and dancing were used before war-times to motivate the troops to battle. The typical call and response style is used where the soloists act as the tribal leaders motivating the tribal fighters. The piece should be performed loud and can be accompanied by foot stomps and beating of chests and throwing of fists. For an authentic performance, watch the Tuks Camerata video.

Pronunciation Guide
All vowels are pure as in Latin.
The "hl" in namhla is pronounced as "thla" – the sound is created on the side of the mouth and is similar to the Welsh word "Llangollen." Thus "namhla" is pronounced "nam – thla.".
"G" is always pronounced as in the English word "guy" (Ingwe; nengonyama)
"Z" in yabizwa is pronounced like the English word "zap"
University of Pretoria Camerata, Michael Barrett, conductor
---
Reviews | submit review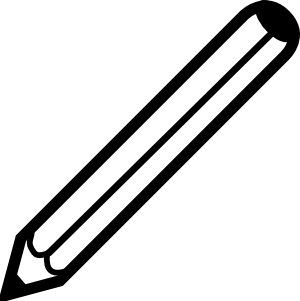 ---
Featured on the following reading sessions
2019 | W TX Choral Workshop - July 8-10, Odessa, TX
2019 | San Jose State Choral Workshops-July 15, Benson/C Archibeque
2019 | ACDA State Conference-Univ of Indianapolis-June 24
2018 | NJ ACDA - July 23-24
2018 | "Surviving & Succeeding as a HS choir director" event, June 25-29 at Vandercook College of Music with Stan McGill.
2018 | Rodney Eichenberger's Summer Choral Workshops
2018 | Spokane Falls MEA Winter Reading Session 1/10
2017 | Summer Reading Session Winnepeg - August 24-26
2017 | Reading Session August 5, James Kinchen HS clinician, Bob Lick Sacred Clinician
2017 | NJ-ACDA and Westminster Choir College Student ACDA Chapter Reading Session
2017 | Missouri CDA Summer Conference - July 19