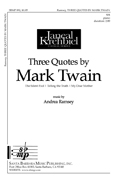 Three Quotes by Mark Twain
[level: Easy]
Andrea Ramsey:
Bio and other works |
Janeal Krehbiel Choral Series
voicing: SA | catalog number: SBMP 892 |

duration: 2:00 | price: $2.05
accompaniment: piano


A delightful, provocative piece for children. The music changes with each little piece, going from ragtime, to a waltz, to the blues. Great fun!1. The Silent FoolIt is better to keep your mouth closed,and let people think you are a foolthan to open it, and remove all doubt.2. Telling the TruthIf you tell the truth,you donít have to remember anything.3. My Dear MotherMy mother had a great deal of trouble with me.But I think she enjoyed it!
Lawrence Children's Choir, Carolyn Welch, conductor [© all rights reserved]

CLICK HERE: See and Hear the Complete Score or download a perusal copy: HERE

Birmingham Boys Choir, Ken Berg, Music Director
---
Reviews | submit review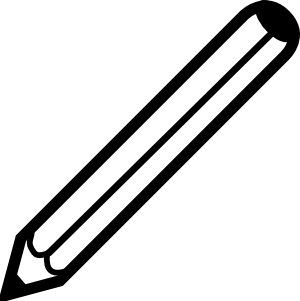 ---
Featured on the following reading sessions
2019 | GA ACDA Reading Session
2019 | University of Montevallo Kodaly Institute-July 8, Dr Michele Pay
2019 | NJSMA Professional Development Day - June 3,-Rockaway, NJ
2019 | Arkansas ACDA Summer Conference
2019 | Montana MEA MCDA Reading Session
2019 | KY ACDA Reading Session
2018 | Print Cost order - Arizona MEA reading session
2018 | KMEA Wyatt Reading Session 2/7
2018 | Reading Session at Boston Childrens chorus 3/2-3/3
2018 | West Texas Kodaly, 5/29/18
2018 | IL ACDA summer retreat 6/27-28/2018
2018 | AR ACDA Summer Conf. July 23-25 2018
2018 | MDDC ACDA reading session/workshop on Oct 13, 2018
2017 | Show #1054 in PA with Clinician Trish Joyce Feb 13, 2017
2017 | Colorado MEA Conference Reading Session Jan. 26, 2017
2017 | Spring Sing Reading Session Sandy Knudson 3/1
2017 | Oregon ACDA Reading Session - June 25-26
2017 | Washington ACDA Summer Institute Reading Session
2017 | WA ACDA Summer Institute
2017 | Indiana ACDA Summer Reading Session
2017 | Kodaly Music Institute Reading Session
2017 | FL ACDA Fall Conference Reading Session - 11/3
2016 | Southern Division ACDA, Chattanooga, TN
2015 | CA MEA Bay Section Conference
2015 | MMEA Collegiate Conference
2015 | NJ ACDA Summer Reading Session - July 21
2014 | CO All-State Elem Choir 2014
2014 | AL ACDA Summer Conference
2014 | NC ACDA Reading Session
2014 | Nat'l Oake Conf. 3-21
2014 | Syacuse Children's Chorus Reading Session 3/8/14
2014 | WI. ACDA Reading Session June 18
2013 | Massachusetts MEA Middle School Reading Session
2013 | WA ACDA Choral Reading Session
2013 | MA ACDA Elementary Summer Reading Session
2013 | NYSSMC ACDA Treble Chorus Session
2013 | AL ACDA Summer Reading Session
2013 | Milligan College Educators Workshop Reading Session
2013 | MS ACDA July 15-17
2013 | MMEA Fall Conference Reading Session
2012 | MA ACDA Mello Reading Session
2012 | AR ACDA Reading Session
2012 | NW Kodaly/WA ACDA Reading Session
2012 | North Central ACDA Reading Session
2011 | IL ACDA Reading Session
2011 | North Central ACDA Reading Session
2011 | Four Corners Choral Workshop
2011 | WA ACDA Summer Reading Session
2010 | MN ACDA Reading Session
2010 | Bluegrass Choral Music Festival
2010 | KCDA Summer Reading Session
2010 | SW ACDA Reading Session
2010 | Ohio ACDA Reading Session
2010 | MO ACDA Reading Session
2010 | MA ACDA Reading Session