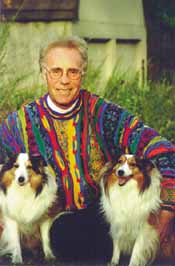 Allen Koepke
---
Allen Koepke (1939-2012) has over sixty published compositions and was a well-known conductor, adjudicator, and clinician. For three years the Composer in Residence for Orchestra Iowa, he was also the composer of two stage musicals. His awards include "Iowa Professor of the Year," "Innovator of the Year," and the Robert M. McCowan Award " . . . for outstanding contribution to choral music . . ." Prior to his "retirement" he was an educator in the public schools for 20 years and college for 16 years. Recently he served as an adjunct faculty member in three Iowa colleges, and retired from his church choir responsibilities after 54 continuous years. His commissions have been written for schools, colleges, and churches throughout the United States. Three of his premieres include the "Finale" for the 50th Iowa All-State Music Festival celebration, the Iowa Sesquicentennial, and a 1995 Carnegie Hall premiere, written for chorus and orchestra. Allen Koepke's biography is listed in the official Marquis "Who's Who In America." His pieces are among the best sellers in the SBMP catalog with DANCE ON MY HEART topping them all with 175,000 copies in print.
---

Allen Koepke has 15 titles published with Santa Barbara.
Click on any title below to view the complete score and hear a recording if available.


| | | | |
| --- | --- | --- | --- |
| Dance on My Heart | SSA | SBMP 34 | |
| | | | |
| --- | --- | --- | --- |
| Ev'ry Time I Feel The Spirit | SATB/SSA | SBMP 345 | |
| | | | |
| --- | --- | --- | --- |
| Speak to the Child of Love | SSA | SBMP 96 | |
| | | | |
| --- | --- | --- | --- |
| Wade in de water | SSAATTBB | SBMP 227 | |
| | | | |
| --- | --- | --- | --- |
| Zekiel | SATB div./tenor solo | SBMP 642 | |
| | | | |
| --- | --- | --- | --- |
| Zing Uh Boo Day | SSA | SBMP 1069 | |

= See the complete score

= Hear recording

= Watch performance video