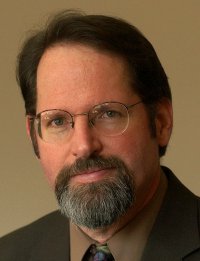 Ben Allaway
---
Ben Allaway (b. 1958) has had his compositions featured on programs with such diverse luminaries as Garrison Keillor, Maya Angelou, His Holiness the Dalai Lama, Hillary Clinton, Hal Holbrook, Buffy Sainte-Marie, Norman Borlaug and Jamie Bernstein. With over forty commissions in the last decade, his eclectic body of work reflects a passion for cross-cultural experiences as well as the great choral traditions. Influences include his early life amid the colorful cultural palette of California, degrees from St. Olaf and Westminster Choir College, three years on the Mississippi (Hannibal), performances with Bernstein, Muti, Marriner, Menotti, Shaw, Abbado and Masur, and extensive travels in East Africa, Europe, Central America and the U.S. Often highly dramatic and audience-interactive, Benís ethnic-influenced and more traditional music is central to his UNESCO-based Thresholds Choral Festivals (www.thresholdsfestival.com). Ben is composer-in-residence at Graceland University, Lamoni, Iowa, and First Christian Church, Des Moines. For more information about Ben and his compositions, visit www.BenAllaway.com.
---

Ben Allaway has 16 titles published with Santa Barbara.
Click on any title below to view the complete score and hear a recording if available.


| | | | |
| --- | --- | --- | --- |
| Alleluyah Sasa! | SATB div. | SBMP 881 | |
| | | | |
| --- | --- | --- | --- |
| Freedom Come | SATB | SBMP 67 | |
| | | | |
| --- | --- | --- | --- |
| From this House | SATB | SBMP 225 | |

= See the complete score

= Hear recording

= Watch performance video