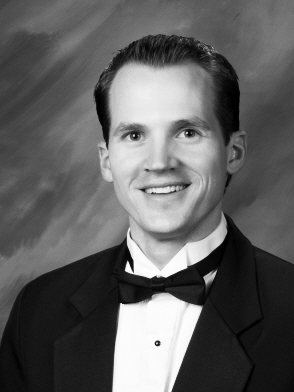 Rob Swenson
---
Rob Swenson holds a bachelorís and a masterís degree in Music Education from Brigham Young University. Prior to his graduation, Rob taught music in Tonga, where he also served a two-year mission. From 2004-2007 he was an Assistant Director with the Utah Valley Childrenís Choir and is currently in his ninth year as Director of Choirs at American Heritage School in American Fork, Utah (a Christian K-12 private school.) He completed a three-year certification course through the Organization of American KodŠly Educators and is an active member of the Utah Music Educatorís Association, where he serves on the State Choral Committee. In 2007, he founded the American Heritage Youth Chorus. Under his direction, this faith-centered choral program for children and youth has grown to over 200 members and performed free, inspirational programs for audiences throughout the United States. As a composer, Robís work is performed frequently by local choirs. His setting of O God, Beneath Thy Guiding Hand was featured on a world-wide LDS Church broadcast. In 2015, he composed and recorded music for Lexi Walkerís debut Christmas album, Merry Christmas!, released by Sony Portrait Records. His original piece, From This House, was chosen for the 2016 Utah ACDA composition contest and was premiered at Libby Gardner Hall in October. His newest piece, Christmas Hosanna, won the 2016 Indianapolis Symphonic Choirís annual Christmas carol commission contest and will be premiered by the ISC in December. When he isnít composing or directing choirs, Rob enjoys teaching an online AP Music Theory course that he designed, interacting with students from around the world. Rob resides in Pleasant Grove, Utah with his wife Kristy and their four children.
---

Rob Swenson has 4 titles published with Santa Barbara.
Click on any title below to view the complete score and hear a recording if available.


| | | | |
| --- | --- | --- | --- |
| Go Forth From This House | SATB | SBMP 1423 | |

= See the complete score

= Hear recording

= Watch performance video