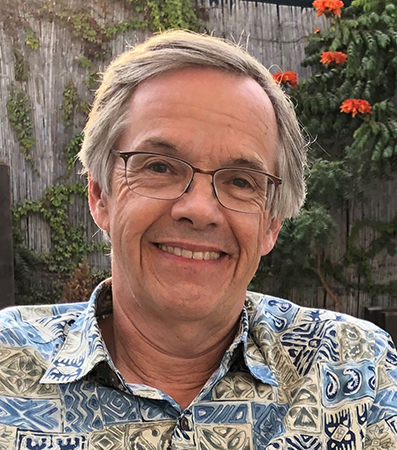 Robert Lockwood
---
Robert is a graduate of Yale University (BA – Music 1977) and has been active in choral music for most of his life. His first composition for choir was a setting of Christina Rossetti's Love Came Down at Christmas, written in 1996 for his mother. This was followed by a setting of Adam Lay YBounden in 1997 and Rossetti's In the Bleak Midwinter in 2003. [All three have been published by Oxford University Press.] Other works include I Was Glad in commissioned in 2001 by St. Martin in the Fields Church, Chestnut Hill, PA, Behold the Dwelling Place of God commissioned in 2012 By St. Michael and All Angels Church, Portland, OR, and a setting of the Icelandic folk lullaby Sofðu unga ástin mín written in 2017 for that year's production of The Christmas Revels – Nordic Lights in Portland.

Robert has sung in church choirs and other ensembles since childhood and has been Music Director of Portland's Christmas Revels productions since 1999. He is Information Systems Manager for New Seasons Market, and is also an accomplished home chef who loves to entertain guests with his wife of 37 years, Janet Gibbens.
---

Robert Lockwood has 1 titles published with Santa Barbara.
Click on any title below to view the complete score and hear a recording if available.



= See the complete score

= Hear recording

= Watch performance video