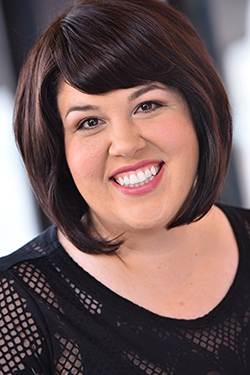 Andrea Ramsey
---
Dr. Andrea Ramsey is a composer, conductor, music educator and native of Arkansas. Her teaching experiences range from work with adolescent and childrenís voices to frequent guest conducting of all-state and honor choirs, to her current position as the Associate Director of Choral Studies at the University of Colorado Boulder. An active member of ACDA, ASCAP, and NAfMe, Andrea believes strongly in the growth of young people as musicians and human beings through the experience of performing meaningful choral music.
---

Andrea Ramsey has 22 titles published with Santa Barbara.
Click on any title below to view the complete score and hear a recording if available.


| | | | |
| --- | --- | --- | --- |
| Grow, Little Tree | SA | SBMP 1170 | |
| | | | |
| --- | --- | --- | --- |
| I See the Heavenís Glories Shine | SSAA | SBMP 929 | |
| | | | |
| --- | --- | --- | --- |
| I See the Heavenís Glories Shine | SATB | SBMP 1040 | |
| | | | |
| --- | --- | --- | --- |
| Sing to Me | SA | SBMP 1003 | |
| | | | |
| --- | --- | --- | --- |
| The Mothís Serenade | SSA | SBMP 1410 | |
| | | | |
| --- | --- | --- | --- |
| There Has to Be a Song | SA or TB | SBMP 963 | |
| | | | |
| --- | --- | --- | --- |
| Three Quotes by Mark Twain | SA | SBMP 892 | |
| | | | |
| --- | --- | --- | --- |
| Wake Me a Song | SSA | SBMP 1027 | |