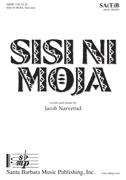 Sisi ni moja (We Are One)
[level: Medium]
Jacob Narverud:
Bio and other works
voicing: SA(T)B | catalog number: SBMP 1338 |

duration: 4:10 | price: $2.25
accompaniment: piano, djembe
Accompaniment Track: piano part - FREE Download
Instrument Part: djembe part - FREE Download


Ever clever, composer Narverud came up with a highly rhythmic celebratory composition. The title translates "We are one", the theme being that all human beings have much in common. The energetic djembe sets the tone, the piano adds its own rhythmic design, and the singers deliver the message, at times sounding as though there should be a campfire at the center of their circle. This BEST SELLER is great fun, a profound message, and an intriguing piece. See composer notes below for pronunciation.
"Moja" in this recording is sung "Moh-yah". See "Composer Notes" above for correct pronunciation.
Studio Recording, 2016 [© all rights reserved]

CLICK HERE: See and Hear the Complete Score or download a perusal copy: HERE


CLICK HERE: Read the Text or Poem
We all laugh, we all cry, we all feel hunger, we all feel pain.
We all love, we all hate, we all hope, and we all dream.
We are one world, one people. And we all breathe the same.
A tribe of many languages, a group of many heartaches,
fighting for peace among the land.
Heja, heja, sisi ni moja. Heja, heja, we are one.

We all want, we all need, we all seek passion, we all seek joy.
We all bruise, we all scar, we all fail, but learn to thrive.
We are one world, one people. And we all breathe the same.
In the darkness of the night and in the glory of the morning,
we walk along the path and find our way.

Now we stand here together and lift our hearts in song
to the rhythm of this moment in our lives:
Heja, heja, sisi ni moja. Heja, heja, we are one.

Jacob Narverud
CLICK HERE: Composer Notes
The original voicing of Sisi ni moja was commissioned in 2015 for the Michigan State University Children & Youth Choirs by their director, Kyle Zeuch, to celebrate unity and community through cultures. This piece was written specifically for their world-music concert theme, "We are One." It was requested to be similar in style to my arrangement of the Kenyan song "Jambo," and was commissioned by the director for SA(T)B choir, piano, and djembe. The SA voicing was written two years later (2017) for the Lawrence Children's Choir in Kansas, Carolyn Welch, Director, and a TBB voicing was requested by the publisher later that same year.

I wanted to create an uplifting, hopeful song that had a modern, popular-style vibe and dealt with the choir's theme of unity and one-ness. Since the piece was intended to represent all people and all cultures, I sought to write a text that would reflect just that. I was teaching high school at the time, and a student in one of my choirs was from Kenya. I asked her to assist me with a Swahili phrase that I could combine with a new original text, which would translate specifically to "We are One." Though not a common Swahili phrase, we came up with "Sisi ni moja," pronounced "Moh-Jah" with a hard "J". "Heja" (pronounced "hey-yah") is a non-word with no literal meaning, and does not represent any specific culture. It is given a more instrumental treatment in the chorus, acting as a joyful, declamatory backdrop to the song's message of unity. This "celebratory chant" mirrors the piano and djembe's heavy rhythmic influence, energizing and driving the song forward.

When I wrote Sisi Ni Moja I specifically chose chord progressions that would be familiar to the ear of both the audience and the singers performing. These popular music chord progressions, coupled with the speech driven rhythms and repetition in the piano, allow listeners to feel an instant connection to the music and focus on the message of the text.

-Jacob Narverud (2018)
CoroRio Choirs and the Choirs of Desto County Schools - J Reese Norris, Conductor
---
Reviews | submit review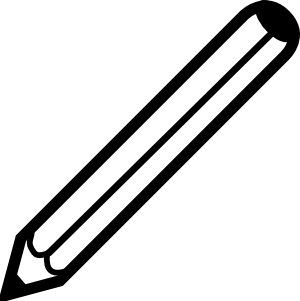 ---
"This is my choir's favorite song of the season. It's the perfect addition to our concert with what's going on in the world."
review by: Julie Sutton, Denver, CO -
---
Featured on the following reading sessions
2020 | CO MEA Elementary Reading Session - January 22-25
2020 | NJMEA Conference - February 20
2019 | Nebraska Honor Choir in Omaha, January 11, 2019
2019 | University of Nebraska Omaha Middle School Honor Choir, January 18, 2019
2019 | South Carolina MEA Reading Session Feb 7-9 - Dr. Sharon A. Hansen, clinician
2019 | SD ACDA Mid-Winter Conference, Jan 19, Don Langlie
2019 | 2018 AVA Fall Workshop
2019 | CA MEA Bay Section Winter Conference
2019 | Texas Conference Choir Clinic (TCCC)
2019 | TN Collegiate NAfME Kick Off Reading Session - September 28
2019 | Maryland/DC ACDA Conference - October 19
2018 | Western ACDA Session 3/15
2018 | FVA Summer Conference 7/27/18
2018 | IL ACDA summer retreat 6/27-28
2018 | Mass ACDA reading sessions 7/17-19
2018 | Spectrum Reading session, June 23
2018 | Mayla Vocal Workshop July 2018
2018 | AMIS F18 conference Madrid, Spain 11/2-3/18
2018 | NHMEA Fall Conference Reading Session, 10/25/18
2018 | Northeast Prof. Educator's Newtork Fall Arts Conf. 11/6/2018
2018 | San Jose State Choral Workshop July 16th
2018 | Iowa ACDA Summer Symposium July 23-26
2018 | CASMEC Reading Session, Jenny Bent & Angel Vazquez-Ramos
2018 | Dorian Vocal Festival - Luther College, Decorah, IA - 1/15
2017 | IMEA Choral Reading Session - January
2017 | Nevada Choral Directors Association Fall Workshop
2017 | ACDA Student Symposium Reading Session, 10/12
2017 | KY ACDA Summer Reading Session
2017 | ILMEA District 7 Reading Session 11/11
2016 | Rodney Eichenberger Choral Conducting Workshop - Alexandria, VA July 11-15
2016 | Rodney Eichenberger Choral Conducting Workshop - Seaside, OR - July 25-29
2016 | University of Michigan Summer Symposium June 20-24
2016 | Michigan State VMA Summer Workshop in Lansing, MI August 3-5
2016 | KCDA Reading Sessions, Topeka, KS, July 7-9
2016 | Unitarian Universalist Musicians Network Annual National Conference July 20-24
2016 | Long & McQuade Ltd Reading Sessions
2016 | Stanton's Sheet Music Summer Reading Session
2016 | Iowa MEA Convention at Iowa State University in Ames on Nov 17-19
2016 | SATB Project Music Festival November 5th