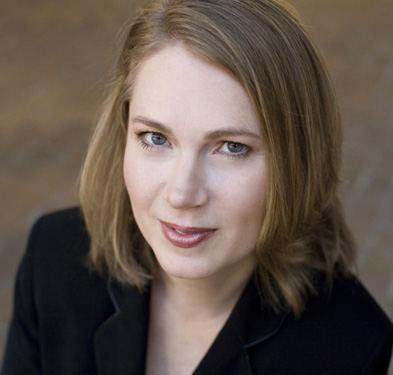 Giselle Wyers
---
Giselle Wyers (b. 1969) is the Donald E. Petersen Associate Endowed Professor of Choral Music at the University of Washington, where she conducts the University Chorale and teaches courses in choral conducting and voice. University Chorale's debut CD, Climb, won third prize in the collegiate division of the American Prize for Choral Performance (2012), and their CD Refuge (2015) reached the finals round for the same award.  University Chorale's 2008 performance of the Genesis Suite with Seattle Symphony was termed "brilliant" by the Seattle Times.

Under her direction, University Chorale has enjoyed high profile performances for the President of Latvia as well as the Crown Princess Victoria of Sweden. The chorus tours regularly; recent trips have taken them to San Francisco as well as Estonia, Finland and Latvia.  They have collaborated in performances with Seattle Symphony Spring and Holiday POPS (2015), National Medalist of the Arts Ann Hamilton, British singer-songwriter Imogen Heap, the national touring company of It Gets Better, and Sapience Dance Collective.

As a guest conductor, Wyers has led high school honor choirs and all-state choruses in New York (Alice Tully Hall, Lincoln Center), Georgia, Connecticut, Nebraska, Texas, Washington, Alaska, Idaho, and Vancouver, Canada. She has conducted semi-professional ensembles across the United States and in Germany, the Netherlands, Estonia, and Sweden.

Wyers is a leading national figure in the application of Laban movement theory for conductors. Each summer she team-teaches choral conducting with James Jordan at Westminster Choir College, and has led workshops on Laban across the United States. She has published two substantive articles on the subject, both published through GIA Publications in the textbooks Music for Conducting Study (Jordan/Wyers) and The Conductor's Gesture: The Language of Movement (Jordan/Wyers).

Wyers' choral works are published by Santa Barbara Music Publishing Company as part of the "Giselle Wyers Choral Series," and have been performed in the United States, Canada, Cuba, and across Europe. She has been commissioned by such choruses as Chamber Choir of Europe, A Capella Koor Cantabile of Netherlands, Choral Arts Ensemble, Dolce Canto Chamber Choir, Georgia Tech Chamber Singers, University of Tennessee Men's Chorus, Cambridge Chamber Singers, Cascadian Chorale, Cantori Chamber Singers of William and Hobart Smith Colleges, and Central Bucks HS choir in Pennsylvania.

Wyers' dedication to exposing audiences to the music of contemporary American composers has led to publications in various national journals. She is especially interested in exploring how modern composers use music as a form of peace-making and social justice. "Waging Peace through Intercultural Art in Kyr's Ah Nagasaki," appears as the cover article of the May 2008 Choral Journal, and discusses how the act of creating and premiering a musical work can serve as a gesture of reconciliation between cultures. Her professional vocal ensemble Solaris specializes in the performance of contemporary American choral literature, and they have released a full album on Albany Records.

Wyers holds a D.M.A. in conducting from the University of Arizona, where she studied with Maurice Skones, and minored in historical musicology with John Brobeck. She earned a master's degree from Westminster Choir College, where she founded the Greater Princeton Youth Chamber Orchestra, and a bachelor's degree from UC Santa Cruz, where she founded the San Lorenzo Valley Community Chorus and Orchestra.
---

Giselle Wyers has 12 titles published with Santa Barbara.
Click on any title below to view the complete score and hear a recording if available.


| | | | |
| --- | --- | --- | --- |
| A Lonely Land | SATB | SBMP 1363 | |
| | | | |
| --- | --- | --- | --- |
| After the Winter | SATB | SBMP 1015 | |
| | | | |
| --- | --- | --- | --- |
| And love be written on running water | SATB | SBMP 1428 | |
| | | | |
| --- | --- | --- | --- |
| I Go Among Trees | SATB | SBMP 912 | |
| | | | |
| --- | --- | --- | --- |
| To a Friend | SATB | SBMP 1472 | |
| | | | |
| --- | --- | --- | --- |
| Waking, The | SATB | SBMP 868 | |
| | | | |
| --- | --- | --- | --- |
| Waking, The | SSA | SBMP 1053 | |

= See the complete score

= Hear recording

= Watch performance video