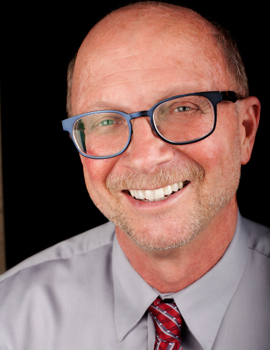 Jo-Michael Scheibe
- University of Southern California

Jo-Michael Scheibe chairs the Thornton School of Musicís Department of Choral and Sacred Music at the University of Southern California, where he conducts the USC Chamber Singers, teaches choral conducting and choral methods, and supervises the graduate and undergraduate choral program. In 2008, he assumed a new post as National President Elect of the American Choral Directorsí Association. No stranger to the ACDA, Scheibe previously served as the organizationís Western Division President (1991-1993), as well as National Repertoire and Standards Chairperson for Community Colleges (1980-1989). Ensembles under his leadership have sung at six national ACDA conventions (1985, 1991, 1993, 1997, 2003, 2007), as well as two national conventions of the Music Educators National Conference (1996, 2000), and various regional and state conventions.

Scheibeís artistic collaborations include choral performances with Luciano Pavarotti, Josť Carreras, Salvatore Licitra, Maria Guleghina and Kenny Loggins, as well as preparation of choruses for Sir Colin Davis and the London Symphony Orchestra, Franz Welser-MŲst and the Cleveland Orchestra, Michael Tilson Thomas and the New World Symphony and conductors Jahja Ling, Edoardo MŁller, James Judd, Max Valdez, Thomas Sanderling and Alain Lombard, among others. Recordings of ensembles under Scheibeís direction have been released on the Albany, Cane, Naxos, Arsis and ANS labels.

A champion of contemporary music, Scheibe regularly commissions and performs new works of choral literature. He has helped to launch careers of promising young composers and to promote music by international composers largely unknown in the United States. Music publishers Walton, Colla Voce Music and Santa Barbara distribute the Jo-Michael Scheibe Choral Series internationally.

Fall 2008 marks Scheibeís return to USC after a 15-year tenure as director of Choral Studies at the University of Miamiís Frost School of Music (1993-2008), as well as previous faculty appointments at Northern Arizona University in Flagstaff (1985-1993), Long Beach City College (1978-1985), Vintage High School in Napa, California and Huntington Beach High School. Scheibe received his D.M.A. from the University of Southern California and his B.A. and M.M. degrees from California State University at Long Beach, where he was presented with the distinguished alumnus award.

Scheibe has served as music and artistic director of several community choral organizations, including the Master Chorale of South Florida, the Tampa Bay Master Chorale and the Long Beach Master Chorale. He has directed music ministries in churches as well, most recently at Coral Gables Congregational Church, where he conducted the Chancel Choir and Vocal Ensemble, which appeared at the 2002 ACDA Southern Division Convention in Nashville. A member of Chorus America, the International Federation of Choral Music, and several other professional and education organizations, Scheibe is in frequent demand internationally as a clinician, conductor and adjudicator for choruses at the university, community college, community and secondary levels.


119 Octavos from the Jo-Michael Scheibe Choral Series

Click on any TITLE to HEAR (if available) and VIEW the complete score.
| | | | |
| --- | --- | --- | --- |
| TITLE | COMPOSER/ARRANGER | VOICING | |
CHORAL SERIES MAIN PAGE